Experience Workshop's STEAM Invaders' program took place between 3-14 February 2020 at Heureka Science Center Helsinki. Experience Workshop's STEAM inspirators were: Matias Kaukolinna, Kerry Osborne and Junyi Sun.
Building up STEAM Invaders' gigantic space base
The structure is a 3-meters- high, 5-meters wide geodesic dome, an exact copy of NASA's space architecture, designed by the visionary inventor, Richard Buckminster-Fuller. Collaborative problem-solving with almost 1000 separate modules! We used Experience Workshop's 4Dframe super geodesic dome toolkit for building.
When ready, the dome serves as a space for exploring the fun-world of maths&arts through play, collaborative problem-solving & iterative design. We used the STEAM toolkits LUX, Poly-Universe, Itsphun and CaraWonga.
Design – build – control your space explorer robot! Experience Workshop's creative STEAM robotics with 4D Frame and more
Connecting areas of Science, Technology, Engineering, Arts and Mathematics in the learning process – as known as STEAM – can get a real boost when it comes to robotics. Participants were welcome to try Experience Workshop's 4Dframe Mechatronics hands-on robotics toolkit to create any kind of constructions.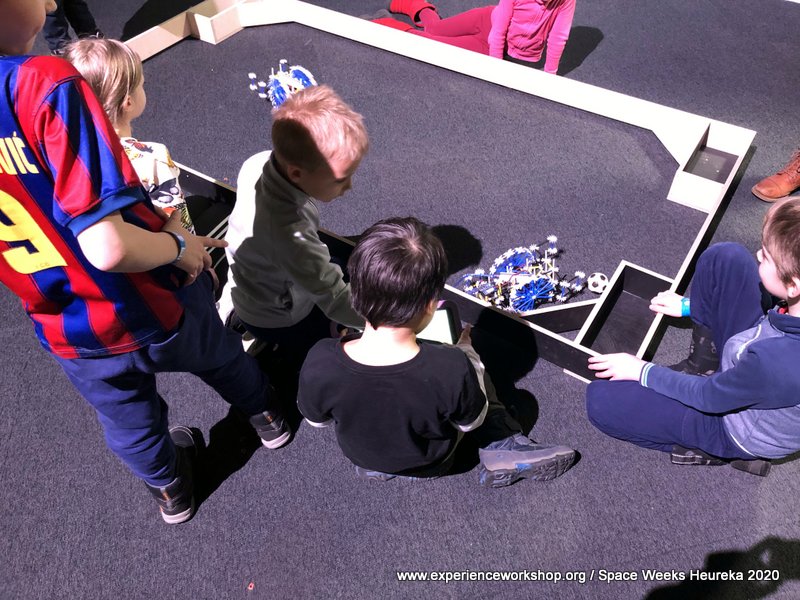 Click to view the 4Dframe Micro:bot video
See more about the Space Weeks here (in Finnish)
Experience Workshop realized the workshops with these educational toolkits:
http://webshop.artrio.hu/product/mechatronics/