We are approaching the goal: to introduce the Poly-Universe tool into school education and do nothing less but transform math learning into a playful game. The 3rd transnational meeting of the Erasmus+ PUSE – Poly-Universe in School Education project took place in Pamplona (Spain), on 25-26. October 2018. 
The Finnish team was made up of Nóra Somlyódy (Experience Workshop, coordinator), Leena Kuorikoski arts teacher and Merja Sinnemäki math teacher from the Viitaniemi School in Jyväskylä.
How to transform area calculations into a colourful and pleasurable hands-on exercise? Why not get an introduction to coding exactly with Poly-Universe? How does the use of the Poly-Universe tool make 4th graders easily understand the construction of triangles? How to turn Poly-Universe in GeoGebra into an experiment with the golden ratio?
So many exciting examples of exercises and activities for elementary and secondary school students, which will finally find their way into a Poly-Universe-workbook during spring 2019.
In two schools in the Pamplona area, the Poly-Universe tool has been used for months already. The schools belong to the Basque-speaking school network called Nafarroako Ikastolen Elkartea. Thanks to Irene López-Goñi and Jesus Maria Goñi Zabala, Poly-Universe-coordinators at Ikastola, it was possible to see live, how endlessly creative the use of the game can be. For example at the Arangoiti Ikastola:
1st graders create mosaics: 
2nd graders practice coding:
6th graders use google draw to create their own designs through rotations and proportion change:
The students from the Zangozako Ikastola school put together a marvellous exhibition from their works based on Poly-Universe. Their arts teacher said "Using Poly-Universe was a good opportunity to introduce STEAM in class". The exhibition takes place in the Planetarium of Pamplona.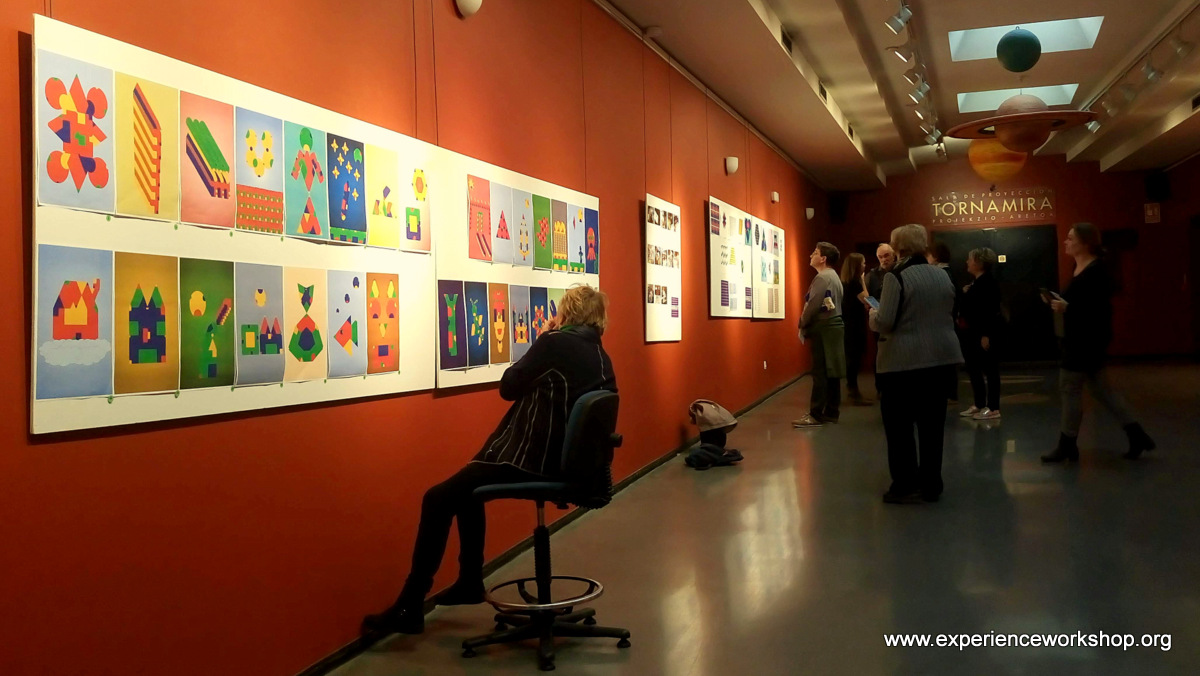 12-year-olds calculate the amount of colour paper needed in order to cut out a castle shape:
Teachers at the Aragointi Ikastola, together with János Saxon-Szász (middle left), inventor of the Poly-Universe tool:

The Poly-Universe-workbook will be published in English and Hungarian. The contents will be freely available on the Poly-Universe-website, together with a continuously growing number of new exercises. Anyone can add his or her own!
Project Coordinator:
Polyuniverse Ltd., Hungary
Partners:
Experience Workshop ay, Finland
Fazekas Mihály Practicing Primary School and Grammar School, Hungary
Nafarroako Ikastolen Elkartea, Spain
NetCoGame Gameful Living Research Center, Hungary
Základná skola Gergelya, Slovakia
Erasmus+ Project ref. 2017-1-HU01-KA201-035938
If you want to know more about the Poly-Universe project, click here: http://poly-universe.com/ 
If you would like to order the Poly-Universe tool, check it out here: http://webshop.artrio.hu/product/poly-universe-toy-family-set/